Note: You're about to read a condensed written version of my most popular workshop called Plan 30 Days of Viral Client Attracting Content in 1 Hour)! If you prefer to watch and listen instead, you can watch the workshop right here.
The reality of social media
We are living in times where having a social media presence isn't just a "nice to have" but an expectation of all potential & existing clients.
Not only that, but social media marketing has never been more competitive than it is today.
There are so many social media accounts and so many media companies that provide valuable content and if you don't keep up with the speed, quality and quantity of that – you will be left behind.
And I know you want to make social media work for you, so it can grow your business.
But you (and so many other entrepreneurs) may be struggling with social media more than ever.
Maybe your follower counter looks frozen.
Maybe your bank account hasn't really changed as a result of your social media efforts.
Maybe you've barely been posting because it takes you 2 hours to create a single piece of content and then the darn thing gets crickets anyways!
So why is social media not working for you?
Maybe it's the lack of confidence?
The lack of time or energy?
Lack of strategy?
Lack of engagement?
Lack of sales?
Or all?
But the gist is always the same…
You think too much, you don't post enough.
Or when you do post, no one really converts!
If any of this speaks to you, I'd love to help!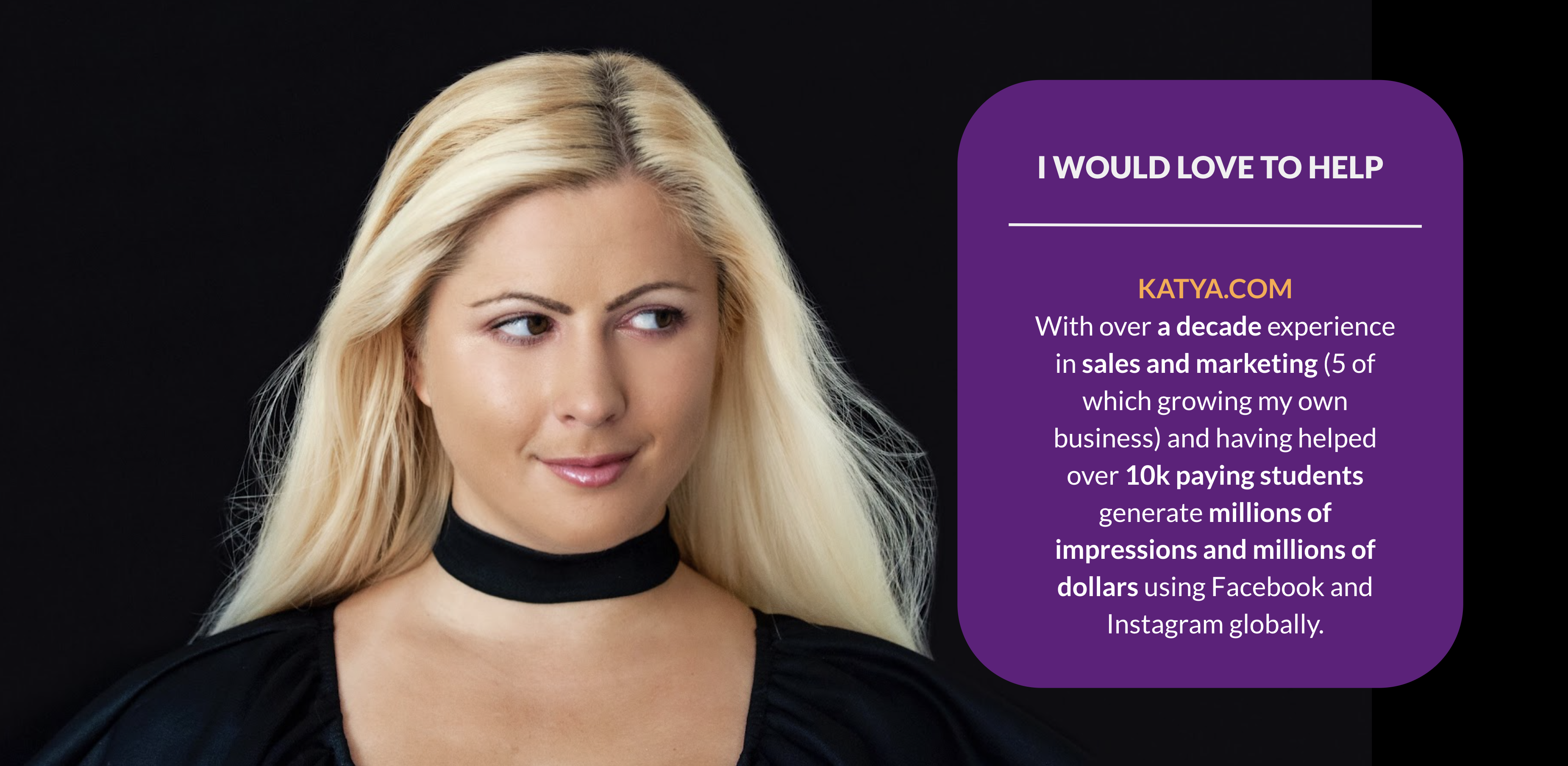 Why should you trust me?
In case we haven't properly met, I am Katya (the CEO here at Viral Marketing Stars®) and I've worked in sales and marketing for over a decade (6+ years of which I've been growing my own business).
I've helped over 10,000 paying students generate millions if impressions, millions of dollars and huge impact using Facebook and Instagram globally!
My work has been featured in major publications such as Business Insider, Forbes, Entrepreneur, CNN International, Telegraph, Huffington Post, BBC London Radio, Influencive, Appsumo and more…
I am also the creator of The Viral Content Club® which is a membership with over 1000 online business owners using The Viral Content System® (5Cs).
And while all this may sound like a lot…
A few years ago, I had ZERO social media presence.
And today I have over 100,000 entrepreneurs in my network, that I absolutely love serving!
But at the beginning, I really didn't have a plan for my social media.
I absolutely winged all my content, sprayed and preyed and hoped for the best.
As a result, I wasted a lot of time and money on unnecessary trial and error.
Over time, I became incredibly good at growing and monetizing audiences (I've sold over $2,000,000 in digital products alone (courses, memberships etc.).
So I refined everything that worked and turned into The Viral Content System® (5Cs) that I'll teach you today!
But I want you to know that I always felt that if I had those systems and tools at the early stages in my journey, I could have saved myself from so many mistakes, disappointments and may have been further than I am today.
But instead of beating myself for where I am not, I focused on helping our clients implement this knowledge, so they don't waste time on underperforming marketing.
Using our systems, we have had countless of clients go from 0 to 100k+ followers and 0 to 6, 7 and and even 8 figure businesses.
So please, pay attention as what you're about to discover may transform your business and life!
Let's begin!
STEP 1 – CONSISTENT CONTENT
Let's be honest! Consistency is hard.
Maybe you're not posting content consistently because you don't have enough time, you are overwhelmed, you're thinking too much or you don't have enough good ideas.
Don't have enough ideas for content?
This often happens when you are looking at a blank screen, hoping that the idea will just hit you.
Reality is, when the brain doesn't know what to focus on, it gets stuck in analysis paralysis.
So my recommendation is to NOT start from an empty page.
Use prompts, templates and seek inspiration from your customers, so you are never stuck on what to post.
Here's an example of how much easier content creation is WHEN you have a starting point.
If you find it easier to work from the pink example or the blue fill in the blank template, you already understand the power of NOT starting from a blank screen.
You have too many ideas for content?
This is very common for seasoned experts who know SO MUCH about their topic, they are overwhelmed with all the things they can talk about.
Usually, the overwhelm happens because you don't have a system or structure to help you pull out the genius from your brain and turn it into content.
My recommendation is that you work on creating that structure for yourself.
I'll show you how we do it shortly.
You don't have time to create content?
Let me ask you this.
If I magically gave you 2 extra days where you had no obligations, would you still avoid creating content?
Probably!
The thing is, the way you're creating content right now may be really tedious and frustrating, so you'd rather preserve your energy for something else.
When you make content creation fun and easy, this is no longer a problem!
STEP 2 – CONSISTENT SALES
You're not making enough sales because you're not marketing your business effectively.
Myth: You need to follow / unfollow, cold DM, leave 100+ comments a day, run ads and be the best salesman on the planet in order to make sales on social media.
Truth: You need to learn how to market your business so that your social media generates leads consistently!
There's a difference between your social media marketing (IG, FB content etc.) and your sales campaigns (e.g. webinars, launches, sales pages, ads etc).
Social media marketing FILLS UP your sales pipeline!
Most entrepreneurs tend to share the same content and offers to the same followers.
But eventually these followers become fatigued.
You need a constant stream of new followers and new leads!!
That's where social media content marketing comes!
Because its job is exactly to bring the Coral Reef Effect® into your brand!
What is that, you ask?
Well, it's very simple .
If you imagine that your industry is like an ocean – vast and limitless;
And in that ocean there's a limited number of fishes – i.e. clients, opportunities etc.
And there are two ways you can catch a fish in that ocean (or get clients).
The Net Casting Effect™ – where you cast a net to catch a fish – i.e. cold DM, cold call, pitch yourself, beg people to become your clients.
vs…
The Coral Reef Effect® – where you have a beautiful coral reef garden that's so attractive all the fishes just want to come to – i.e. clients come in your DMs, everyone wants to buy from you, be around you and consume your content.
Which one would you rather be?
And your coral reef garden?
That's your social media presence and your content.
If it's good, it will grow easily, attract new people, nurture them and convert them.
And if it's not optimized – it will be hard to grow and hard to convert.
Your job is to become the Coral Reef Garden of your industry!
But Katya, I already am a Coral Reef Garden. I am growing a lot, but people just aren't buying.
Well if that's you, chances are your call to actions are weak or non-existent.
Let's be honest, most people struggle with asking for things, especially chronic overgivers.
There are different combinations of call to actions you can use depending on the purpose of your specific piece of content.
Attract an audience with these call to actions: "Follow me for content about XYZ", "Share this on your story", "Tag someone below"
Nurture your audience with these call to actions: "Comment below", "Save this", "DM me"
Get leads and sales with these CTAs: Click the link in my bio to find out more, DM me to find out more, visit X link to find out more about this etc.
Bottom line is, if you become the Coral Reef Garden and you ask for what you want – it shall be given to you!
STEP 3 – CONTENT STRATEGY (OR HOW TO PLAN)
You may have planned content before but chances are you didn't do it right. You didn't create the right mix of content.
As people who aren't 2 years old, we all understand there are non-negotiables in this life.
Everybody needs food, water, sleep, air and memes.
No matter your gender, nationality and cultural background.
Same thing with your social media marketing efforts, no matter your business model or niche.
Slightly different non-negotiables though.
As top viral marketers with years of experience, we know what they are, and we've been sharing that knowledge with our clients in a framework known as:
The Viral Content System® (5Cs)
Just 5 types of content you need to master and live your ultimate social media marketing fairytale.
COMMUNITY (Quotes and Memes) – Instantly consumable. Easily shareable. High potential for going viral. Spreading your brand – and IG handle – far and wide, and quickly, and for free.
CONVERSATION (Questions, polls, etc) – Attention grabbing. Highly engaging. Gaining momentum like wildfire. Making an impact on your audience — and the industry at large.
CONNECTION (Your story, your philosophy, your brand values, principles, your WHY) – Sharing what matters to you, seeing if it matters to them. Cause once it's clicked, you won't find a better customer.
CREDIBILITY (How to, educational, your frameworks, social proof, etc) – Making them want you for more than your slick visuals and excellent taste in quotes. Letting them know you know your stuff, too.
CONVERSION (Asking for the sale) – Effortlessly. Naturally. Frequently. Making offers that land you clients without ever feeling pushy and yucky.
MOST PEOPLE WAY OVERDO IT ON TWO OR THREE OF THESE
Because everybody has favorites.
Because it's kind of hard to just know how to do all five and not appear preachy, or sleazy, or like you don't know what you're doing.
Because it's also a lot to keep track of.
So how should you plan your content?
The ideal content plan consists of 20% Community, 20% Conversation, 20% Credibility, 20% Connection and 20% Conversion content.
And the easiest way to make that happen is to pick a theme day. For example..
MONDAYS could be your community days to grow your audience
TUESDAYS could be your conversation days to grow your audience
WEDNESDAYS could be your credibility days to nurture your audience
THURSDAYS could be your connection days to nurture your audience
FRIDAYS could be your conversion days to convert your audience
And on the weekend post whatever C you want or don't post at all!
Repeat it 4 times and you got yourself 28 days of viral client attracting content that grows, nurtures and converts followers into clients and customers!
IN SUMMARY
PROBLEM – Inconsistent visibility and content, overwhelm, overthinking, perfectionism.
SOLUTION – Don't start from a blank screen. Have a frame of reference, prompts and templates.
PROBLEM – Inconsistent, weak or non-existent call to actions. Confusing sales with marketing.
SOLUTION – Increase and strengthen your CTAs. You are a business. Your job is to MARKET & SELL.
PROBLEM – Random content, wrong mix, focusing on 2-3 Cs.
SOLUTION – The Viral Content System® (5Cs) to plan and post the 5 types of content consistently.
NEXT STEPS
If you feel full and content with what you've learnt and you are happy to do this on your own through trial and error – then it's time to go away and implement what you learnt!
If you feel inspired but you'd rather save time, not having to do this on your own and save yourself years of trial and error, then check out the Viral Content Club® that solves ALL of these problems.
We give you monthly templates and marketing resources so you don't have to create marketing or content assets from scratch.
We give you a monthly manual showing you exactly how to customize them for your business and what call to actions to use with them (so you don't forget to ask for the sale).
You also get a monthly content plan following the 5Cs which acts as a constant reminder to ensure you're covering all 5Cs!
On top of that, all our monthly content is labelled with the 5Cs so you know exactly what to post and when and WHY!
When you plug in the Viral Content Club®, growing an audience, nurturing it and converting it becomes so much fun!
No, it's not going to be easy and it's going to require some work (especially at the beginning).
But if you spend even 10 mins a day thinking about what to post (and overthinking it), you're already wasting 60 hours PER YEAR on just "wondering".
How much is an hour of your time worth? $50? $100? $500?
The Club gives you those 60 hours back!!
So if you'd like to "ethically steal" the exact content system (and all my templates) that helped me build an audience of over 100k fans and over 10k paying customers, you can join me and over 1000+ members in the Viral Content Club®.
And if you join today, we have a limited time offer as a thank you for registering for this workshop! Just use coupon WORKSHOP100 at the checkout and get $100 off forever on the annual subscription plan.
Visit theviralcontentclub.com to learn more and become a member.
But hurry up because this coupon won't last forever.
– Katya